Heat Transfer Vinyl vs. Adhesive Vinyl: Which to Choose: Comparing the characteristics and best uses for these two popular vinyl types
Heat Transfer Vinyl (HTV) and Adhesive Vinyl are two popular types of vinyl used for various crafting and DIY projects. They have distinct characteristics and best uses, which make them suitable for different applications. Let's compare the two:
Heat Transfer Vinyl (HTV)
Characteristics
1. Heat Activation: HTV requires heat to adhere to surfaces. It has a heat-sensitive adhesive on one side that activates and bonds when heat is applied.
2. Textile Applications: HTV is mainly used for creating designs on fabric and textiles. It is commonly used for making custom t-shirts, tote bags, and other fabric-based items.
3. Carrier Sheet: HTV often comes with a carrier sheet that holds the vinyl design in place before it's applied. The carrier sheet is removed after heat pressing.
4. Variety of Finishes: HTV comes in a variety of finishes, including matte, glossy, metallic, glitter, and more.
5. Cut in Reverse: The design is typically cut in reverse (mirror image) before application, as it's flipped onto the fabric for heat pressing.
Best Uses
1. Apparel: HTV is excellent for adding personalized designs, numbers, names, or logos to clothing items like t-shirts, hoodies, hats, and sportswear.
2. Fabric Crafts: It's ideal for making fabric-based crafts like tote bags, aprons, pillow covers, and baby clothes.
3. DIY Projects: HTV can be used for creating custom home decor items such as throw pillows, banners, and wall art on fabric surfaces.
Adhesive Vinyl
Characteristics
1. Self-Adhesive: Adhesive vinyl has an adhesive backing that sticks to surfaces when pressure is applied. It does not require heat for bonding.
2. Smooth Surface Application: It's mainly used on smooth surfaces like glass, plastic, metal, wood, and more.
3. No Carrier Sheet: Adhesive vinyl doesn't come with a carrier sheet like HTV. The vinyl design is applied directly to the surface.
4. Variety of Finishes: Like HTV, adhesive vinyl also comes in various finishes, such as matte, glossy, metallic, and more.
5. Regular Cut: Designs are typically cut with the adhesive side facing up, as they are directly stuck onto the target surface.
Best Uses
1. Home Decor: Adhesive vinyl is great for creating decorative elements on walls, windows, mirrors, and glassware.
2. Personalization: It's used for adding personalized decals to items like laptops, water bottles, phone cases, and more.
3. Signage: Adhesive vinyl is commonly used for creating signs, banners, and labels on a variety of surfaces.
4. Scrapbooking: It can be used to add intricate designs to scrapbooks, photo albums, and other paper-based crafts.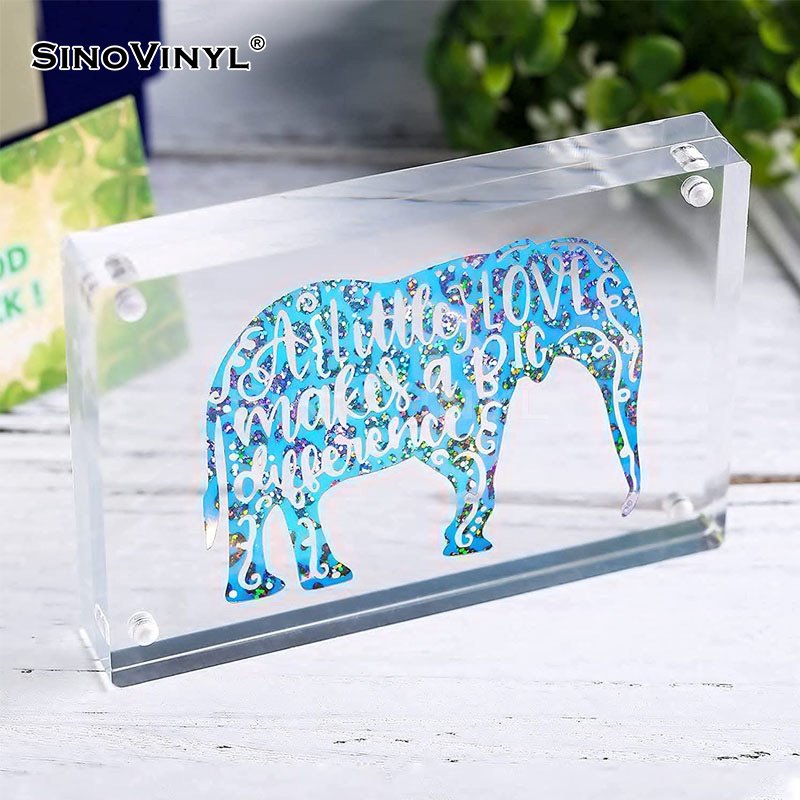 Final Words
In summary, your choice between Heat Transfer Vinyl (HTV) and Adhesive Vinyl depends on the type of project you're working on. If you're creating designs on fabric or textiles, HTV is the way to go. If you're working with smooth surfaces like glass, plastic, or wood, and want to create decals or decorative elements, adhesive vinyl is more suitable. Always consider the application requirements, material compatibility, and the final look you want to achieve when choosing between these two vinyl types.