Understanding the Basics of Graphic Cutting Vinyl
The Basics of Graphic Cutting Vinyl refer to the fundamental concepts and techniques involved in using vinyl cutting machines to create custom designs, stickers, decals, and other graphical elements. Vinyl cutting is a popular method in the crafting and DIY communities, as well as in commercial settings like sign making and promotional materials.
Here's an explanation of the key aspects of the Basics of Graphic Cutting Vinyl:
1. Vinyl Materials
Graphic cutting vinyl is a thin, flexible, and adhesive-backed material available in various colors and finishes. It comes in rolls or sheets and is designed to be compatible with cutting machines.
2. Cutting Machines
To cut the vinyl precisely, you need a vinyl cutting machine (also known as a vinyl cutter or plotter). These machines are equipped with sharp blades that follow the vector paths of your design to cut the vinyl into the desired shape.
3. Design Software
Before cutting, you create your designs using graphic design software such as Adobe Illustrator, CorelDRAW, or specialized vinyl cutting software. The design is then saved in a format compatible with the cutting machine (usually SVG or DXF).
4. Vector Graphics
Graphic cutting machines work with vector graphics, which are based on mathematical equations. Unlike raster images (JPEG, PNG, etc.), vector graphics retain their quality and sharpness at any size.
5. Preparation
To start the cutting process, you load the vinyl roll or sheet into the cutter and secure it properly. You also need to calibrate the machine to ensure precise cutting.
6. Cutting Settings
Adjusting the cutting settings is essential to ensure the vinyl is cut correctly. Factors like the type and thickness of the vinyl, blade depth, and cutting speed need to be optimized.
7. Weeding
Once the vinyl is cut, you need to remove the excess material from the backing sheet. This process is called weeding, and it requires precision to avoid damaging the delicate parts of the design.
8. Transfer Tape/Application Tape
After weeding, you use transfer tape (or application tape) to lift the design off the backing sheet and transfer it to the desired surface.
9. Application
Finally, you carefully apply the vinyl design to various surfaces, such as walls, windows, vehicles, clothing, and more. Proper application techniques ensure a smooth and bubble-free finish.
10. Practice and Patience
Graphic cutting vinyl may seem intimidating at first, but with practice and patience, you can achieve impressive results. Learning to troubleshoot common issues and refine your skills is part of the learning process.
Understanding the basics of graphic cutting vinyl sets a solid foundation for exploring more advanced techniques and projects. It allows you to unleash your creativity and turn your ideas into tangible, customized creations.
Step-by-Step Guide to Creating Vinyl Decals with Graphic Cutting
Creating vinyl decals with graphic cutting can be a fun and rewarding craft project. Here's a step-by-step guide to help you get started:
Step 1: Gather Your Materials
– Graphic cutting vinyl in the colors of your choice
– A vinyl cutting machine (such as a Cricut or Silhouette)
– Weeding tools (small tweezers or a weeding pick)
– Transfer tape or transfer paper
– Scissors
– A clean and smooth surface to apply the decal (e.g., glass, plastic, or wood)
Step 2: Design Your Decal
– Open your preferred graphic design software or use the design software that comes with your vinyl cutting machine.
– Create or import the design you want to turn into a decal. Keep in mind that intricate designs may be more challenging to work with, especially for beginners.
– Ensure your design fits within the cutting area of your vinyl cutting machine.
Step 3: Load and Cut the Vinyl
– Prepare your cutting machine by loading the vinyl onto the cutting mat.
– Follow the instructions for setting up the machine and loading the design.
– Choose the appropriate settings (e.g., vinyl type, blade depth) for cutting the vinyl.
– Initiate the cutting process, and wait for the machine to complete the cut.
Step 4: Weed the Vinyl
– Carefully remove the vinyl from the cutting mat.
– Use the weeding tools to remove the excess vinyl around your design. This process is called weeding.
– Be patient and take your time, especially with intricate designs.
Step 5: Apply Transfer Tape
– Cut a piece of transfer tape slightly larger than your design.
– Peel the backing off the transfer tape and carefully apply it over your vinyl design.
– Use a scraper tool or a credit card to firmly press the transfer tape onto the vinyl, ensuring it adheres well.
Step 6: Transfer the Decal
– Position the transfer tape with the vinyl decal onto your desired surface.
– Gently press down the transfer tape to adhere the vinyl to the surface.
– Use the scraper tool or credit card to smooth out any bubbles and ensure proper adhesion.
Step 7: Peel off the Transfer Tape
– Slowly and carefully peel back the transfer tape at a 45-degree angle. Ensure the vinyl stays adhered to the surface.
– If any part of the vinyl starts to lift with the transfer tape, press it back down and use the scraper tool again.
Step 8: Finishing Touches
– Once the transfer tape is completely removed, inspect the decal for any bubbles or imperfections.
– Gently smooth out any issues with your fingers or the scraper tool.
Congratulations! You've successfully created a vinyl decal with graphic cutting. Now, you can apply this technique to create more decals for various projects, gifts, or even start a small vinyl crafting business. Remember, practice makes perfect, so don't hesitate to experiment with different designs and materials to expand your vinyl cutting skills.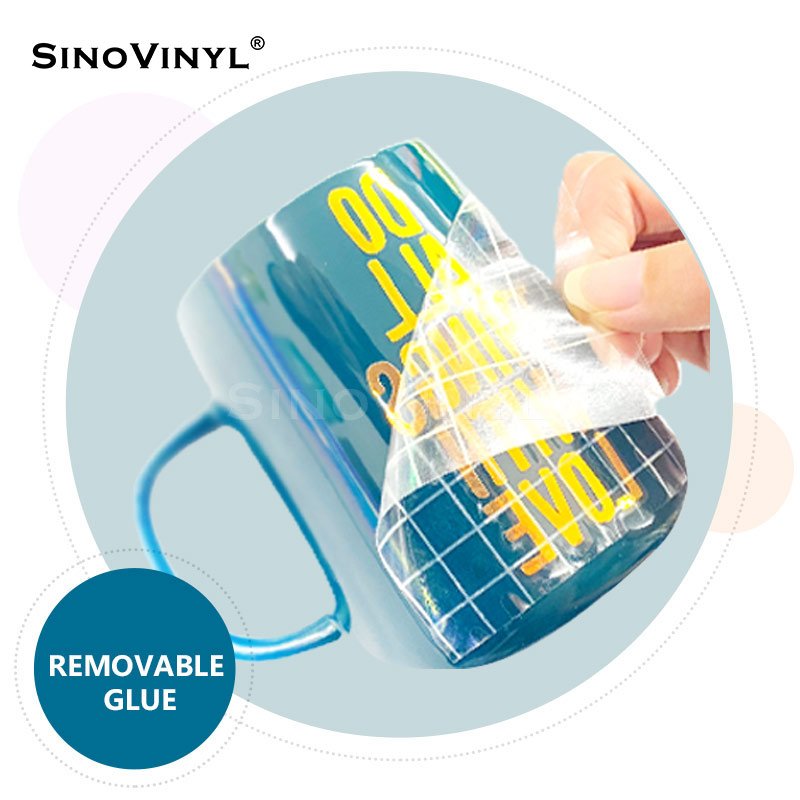 Final Words
In conclusion, exploring the world of graphic cutting vinyl has undoubtedly unlocked a world of crafting delight. From personalized home decor to eye-catching signage and unique gifts, this versatile medium empowers your creativity and allows you to bring your imaginative visions to life. As you delve into this art form, remember that practice and patience are key to mastering the techniques. Embrace the learning process, and don't be afraid to experiment with designs and materials. With the right tools and a touch of ingenuity, you'll find yourself amazed at the endless possibilities that graphic cutting vinyl offers.